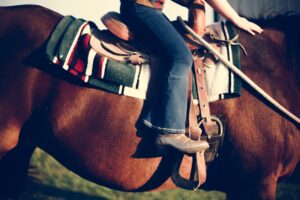 Are you just not seeing the improvement that you would like from your child's current therapy? If so, take the time to learn a little bit about all of the benefits of therapeutic horse riding. This method of treatment is a fun and exciting way to improve their capabilities in multiple ways, both mentally and physically. Plus, it can get them out of a stuffy office and into the sunshine!
At our ranch in Texarkana, TX, we provide specialty day programs for those children who need a little bit more help. Physically, the action of riding a horse can help your little one to increase core strength and stability. In addition, it is a fun way to help them to improve their range of motion and flexibility, all while having fun. Therapeutic riding can also be a huge benefit to those with cognitive or emotional needs, so talk to our team about all of the advantages of this exciting method of therapy!
Make Therapy Fun With The Excitement Of Horse Riding
Having your child sit still for their physical or emotional therapy can be a struggle. We would all rather be outside in the sunshine if possible, after all. If they are not responding well to their sessions in the office, take some time to learn about how therapeutic riding can be a positive solution.
With this method of therapy, your little one can engage with the exciting world of ranch life, spending some time with a beloved animal in the process. This can turn their sessions from a source of constant anxiety into an awesome interaction that they look forward to!
Helping Your Child to Expand Their Capabilities
Therapeutic riding can be a help for children with both physical and mental disabilities, in a way that is fun and captivating for all. For those who struggle with emotional connections, interacting with another living being can help them to develop empathy. Learning to meet and later rely upon an animal can be a great way for them to improve their communication.
Horse riding therapy is also helpful for those with physical needs, and these sessions can be beneficial in a number of ways. Riding can help with core strength and balance in children who use walking aids or a wheelchair. It can also increase flexibility and range of motion, all with the gentle gait of a horse!
Learn More About Therapeutic Riding With Runnin' WJ Ranch In Texarkana
For more information about therapeutic riding, reach out to a valued member of our team at Runnin' WJ Ranch In Texarkana, TX at (903)838-3223. Tell us all about your little one and discover the advantages of this approach. You have the opportunity to help them to grow in a fun and caring environment!