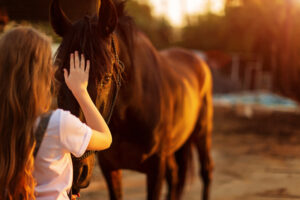 If you are looking for a better way to provide your child with physical and social tools to help them to succeed in life, there is an option that allows them to work closely with animals. Therapeutic horse riding is a way that they can be out in the sunshine with another being, giving them multiple advantages over traditional methods. When you want to give your child a unique experience that benefits both their body and mind, riding therapy is a wonderful option!
At our ranch in Texarkana, TX, we have found our calling in giving special needs children a way to grow through therapeutic riding. By spending some quality time with another being, your little one will grow to interact and even depend on their horse. This approach can bring positive moments for those who struggle with emotional and cognitive difficulties. Therapeutic riding also helps children with physical limitations to strengthen their core muscles, giving them greater control and balance. Talk with a member of our team about your child and learn how we can help!
A Positive Place To Grow And Learn With Therapeutic Riding
One of the most common difficulties associated with physical and cognitive therapy is that children do not often want to sit still for an extended period. Spending the necessary amount of time is a key component of any form of therapy, so how do you keep them engaged for the process to be effective?
We can provide them with an exciting day of activities, rather than a stuffy office. Give them the opportunity to grow and thrive in a new environment so that they can experience new things outdoors. Therapeutic riding is effective for those with special needs, in both mind and body!
How Therapeutic Riding Can Help Your Child To Flourish
Riding therapy is a positive experience for many children, and can help those with cognitive, emotional, and physical demands. For those who struggle with their emotions, the interaction and dependence upon another living creature has been shown to improve their communication and empathy. Your child can also expand their cognitive capabilities by engaging and learning.
The gentle swaying motion of a horse's gait is also beneficial for children with physical limitations. This process works to build up their core muscles, giving them greater balance and strength. Plus, it is much more fun than an office!
Talk To Our Team In Texarkana About Riding Therapy
For more information on how therapeutic riding can help your child, give us a call! Reach out to a member of our team at Runnin' WJ Ranch In Texarkana, TX at (903)838-3223 and discuss your little one's specific needs. Give them an exciting experience in which to grow!