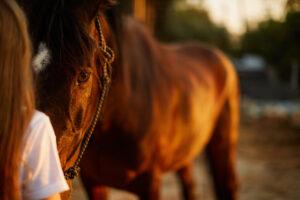 If you are looking for a positive and engaging way to help your little one to develop, have you considered horse riding? Physical and cognitive therapy can be difficult when they are in the office, so talk to our team about ways to make therapy fun in an outdoor environment. If you have been looking for a new way to help your child to have new physical or emotional tools, therapeutic riding may be the answer.
With our team at Runnin' WJ Ranch in Texarkana, TX, you have a team of people looking to guide your child to a more capable life through therapeutic horse riding. If you are looking to a fun and engaging way to give your child a great experience during physical therapy, horses may be a helpful solution. Give us a call and tell us all about your little one and learn all about the advantages of horse riding as a therapy option!
Horse Riding As Therapy Can Bring Your Child Physical Benefits
When incorporating horse riding into your child's physical therapy routine, it can be helpful in many ways, including for physical development. When on a horse, you naturally start to build core strength and balance, which can be helpful for people of all skill levels. For those in wheelchairs, this may be particularly beneficial, so peak with our team and also their doctors to determine whether this is right for their needs.
The gentle gait of a walking horse can also be beneficial in extending their range of motion in addition to helping with balance and strength. There is a broad and comprehensive set of benefits associated with therapeutic riding, so talk with our team to learn more about the possibilities. Plus, getting to be outdoors doing something fun while caring for health can be very positive!
There Is An Emotional Connection Between Human And Animal
Beyond the physical advantages of therapeutic riding, there is also an emotional side at play. When you ride a horse, you need to learn how to communicate with another living being, which can be a significant benefit to those with emotional or cognitive issues. When you want to give your child more tools in living life, consider therapeutic riding as an option.
With day programs from our team in Texarkana, they can experience the connection between horse and human that can be transformative. By learning how to rely on another living thing, it helps children to understand and build empathy.
Learn More About Therapeutic Riding In Texarkana
For more information about therapeutic riding, speak with our team today. Give us a call at Runnin' WJ Ranch In Texarkana, TX at (903)838-3223 to learn more!