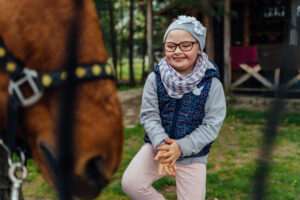 If your child is struggling to have the patience for indoor physical or cognitive therapy, it is important to remember that you have an option that can help them to have some fun while they develop. Therapeutic riding can be a fun and engaging way for your little one to connect with the world around them while they expand their capabilities. Creating this connection can give them a reason to enjoy their cognitive or physical therapy in a way that a stuffy office just might not.
At Runnin' WJ Ranch in Texarkana, TX, we are here to help individuals with special needs to increase their natural abilities. This process can bring significant benefits to those with a variety of needs, including both physical and emotional limitations. With our team of PATH International-accredited therapeutic riding instructors, your child can learn to focus on the excitement of riding an actual horse!
Are They Tired Of Therapy? Try Therapeutic Riding
Is your child beginning to dislike their current therapy setup? For some, the idea of sitting in an office for the required amount of time can feel like work. If they are not receptive to their treatment, it can make the process more difficult than it needs to be.
When you are researching your possibilities in fun and exciting ways to improve their capabilities, think about the advantages of riding therapy. This method of care uses horse riding as a way to help them to develop new tools, and it can be beneficial in a variety of ways. Talk to our team about your little one's needs, and see how a new form of therapy may be able to help!
Horse Riding Can Bring Results For Both Physical And Cognitive Impairment
One of the greatest advantages of therapeutic riding is that it is a versatile form of care. Whether your little one needs a little help physically or mentally, interacting with horses can help them to develop new skills. For those with cognitive impairment, relating with another living creature can help them to develop empathy and emotion.
Riding therapy can also help those with physical limitations in a few different ways. The action of riding helps them to develop core strength, as well as an improved sense of balance. For children with walking aids and wheelchairs, this can be a great way to improve their control and range of motion.
Ask Runnin' WJ Ranch About Therapeutic Riding For Special Needs Children
Learn more about therapeutic riding today by calling our team at Runnin' WJ Ranch In Texarkana, TX at (903)838-3223. Give us a ring and tell us about your little one and discover the advantages of a more fun and engaging form of therapy!