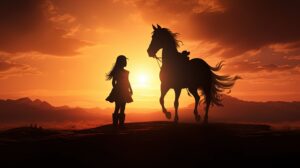 Sometimes, children can struggle with their indoor physical and cognitive therapy. As the weather start to turn a little cooler, think about was that you can keep them entertained while they expand their capabilities. One of your options helps you to bring them outdoors and interact with another living creature. With equine-assisted therapy, they can have some fun riding a horse while they develop new strength and skills.
With our team at Runnin' WJ Ranch in Texarkana, TX, your little one can spend some time in the sunshine during their physical and cognitive therapy. Therapeutic riding can bring them increased physical abilities through a stronger core and improved balance, all by riding a horse. If your child needs a little extra help with developing cognitive and emotional skills, talk to our team to learn more about how riding therapy can help them, as well. By interacting with other children, and by relying on another living being, you can work to give them new tools to use in their daily life. Give us a call today to find out more about our therapeutic riding programs at Runnin' WJ Ranch!
Therapeutic Riding Is An Exciting Way To Help Them Develop
When your child starts to grow tired of indoor treatment options, ask about your alternatives. With equine-assisted therapy, your little one can get out from that stuffy office and into the great outdoors. This can be a great way for them to have a little bit of fun while they expand their capabilities.
For children with physical limitations, horse riding can bring multiple benefits. Being on a horse helps them to develop a stronger core, which can be helpful for those with walking aids and wheelchairs. They can also hone their balance and range of motion, with the gentle gait of a walking horse.
Riding Therapy Can Help Those With Cognitive Difficulties To Grow New Skills
Therapeutic riding is not only beneficial for those with physical difficulties; if your little one has cognitive or emotional struggles, spending some quality time with a horse can help them, as well. Our programs are specifically designed to help your child to interact with others, and the connection with another living being can develop empathy and understanding.
Foster a communicative relationship between your child and a horse with our PATH Intl.-certified equine-assisted therapy. Talk to our team today and learn a little bit about what we do here at Runnin' WJ Ranch!
Find Out More With Runnin' WJ Ranch
When your little one needs a different form of therapy, ask about whether therapeutic riding is your next move. To learn more about this exciting alternative to in-office care, give us a call at Runnin' WJ Ranch In Texarkana, TX at (903)838-3223.