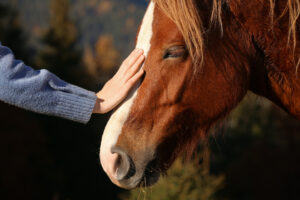 Are you searching for a way to bring your child's physical or cognitive therapy out from that stuffy office? When you want to give them the tools that they need to be successful in life, talk to our team about our therapeutic riding programs. Our ranch offers PATH Intl.-certified riding therapy for children who need a little extra help, and this could be a great way to introduce a little fun while they work to expand their capabilities.
At our ranch in Texarkana, TX, we understand the value of spending some time outdoors with another living being. With therapeutic riding, your little one can strengthen their core and develop a better sense of balance through the gentle motion of a swaying horse. This process can also be beneficial for those with cognitive impairment, as well, since interacting with another creature has been shown to develop empathy and connection. When you want to try something new and exciting for your special needs child, talk to our team about starting them in a therapeutic riding program at Runnin' WJ Ranch!
Therapeutic Riding Can Help Them Become Stronger And More Sure Of Themselves
For children with physical limitations, therapy can be an important way for them to develop new skills. Even more than that, they can become a little surer of themselves when they have a stronger core and more developed sense of balance. When their therapy is confined to a stuffy office, however, they might not enjoy the experience as much as they should, which can start to hold them back.
That is why our therapeutic riding programs can be helpful in giving little ones with special needs a place that feels more like a field trip and less like a hospital. Take the time to talk with our team about your little one, and learn about all of the advantages that riding therapy has to offer.
Making That Connection Can Make All The Difference In Those With Cognitive Or Emotional Issues
Therapeutic riding is not only beneficial for children with physical limitations, but also in those with emotional or cognitive concerns. By working alongside another living being while riding a horse, they can start to develop a connection with another creature. Even just learning the name of their favorite horse can spark a bond that is hard to deny. When they have to depend on a horse for their own riding, they learn how to better interact with others.
Learn More About Therapeutic Riding With Runnin' WJ Ranch
For more information about therapeutic riding, speak with our team today about our programs for children with special needs. Give us a call at Runnin' WJ Ranch in Texarkana, TX at (903)838-3223 to learn more!